In 1978, our father opened a wax-pack of Topps baseball cards and pulled a Reggie Jackson, the infamous card #200. He claims, "every serious baseball card collector has an appreciation for this card—and the impact it had on young baseball players dreaming of someday playing in the major leagues." At that moment he figured out where his allowance would be spent for the next decade and beyond—along with countless Reggie Jackson candy bars! As the years rolled on, his interest in the hobby never died. And today, our family shares our love of baseball and baseball card collecting together in the form of Aaron to Zito.
Like all kids, Jake played several sports as a youngster. From basketball to soccer, volleyball to tennis, he bounced around from car-to-car, field-to-field having good old-fashioned kid-like fun. But no sport captured his interest like baseball—and he caught the bug badly at 9-years-old declaring he wanted to play professionally someday. Now 13-years old, Jake works tirelessly to achieve his goal of playing collegiate baseball someday. "I love this game," Jake says. "And my goal is to be able to play all 9 positions with equal ability". His true love is playing shortstop, second base, and catcher. Jake currently plays club baseball for Garciaparra Baseball Group in Las Vegas, Nevada. His favorite players are Francisco Lindor and Ivan Rodriguez. And he is a die-hard Cleveland Indians fan!
Jake's collection is truly unique. He collects Reggie Jackson, Rod Carew, Steve Garvey, and Ivan Rodriquez cards (which can seem vintage to a younger collector). And he collects unique sub-sets that can include stickers, tattoos, pins, refractors, and die-cuts. He has amassed a really eclectic collection – having FUN every step of the way!
As a 4-year-old girl, Jordan insisted on joining her father and big brother on the baseball field. Mom's plan for her to become a dancer was quickly foiled once her father saw her throw a baseball. Her tutu was soon retired and traded in for a baseball glove. Now 11-years-old, Jordan works daily to achieve her dream of playing collegiate baseball. "Someday a female will make it to the Major Leagues. Why not me?", says Jordan. And it's dreaming "big" like this combine with a 70-mph fastball that has naysayers believing this dream could be a reality. She currently plays on the Las Vegas Swing club baseball team based in Summerlin, Nevada under the watchful eye of her father. Her favorite players are Rickey Henderson and Rod Carew. She is equally as passionate about the Cleveland Indians as her brother and a devote Chief Wahoo collector.
Jordan is currently collecting all-things Rod Carew, Rickey Henderson, and Ozzie Smith in PSA 10 condition. But she has a keen eye for antiques and has built a unique collection of vintage bobble heads and classic crane pins. Being a female baseball player, she collects anything from the All-American Girls Professional Baseball League.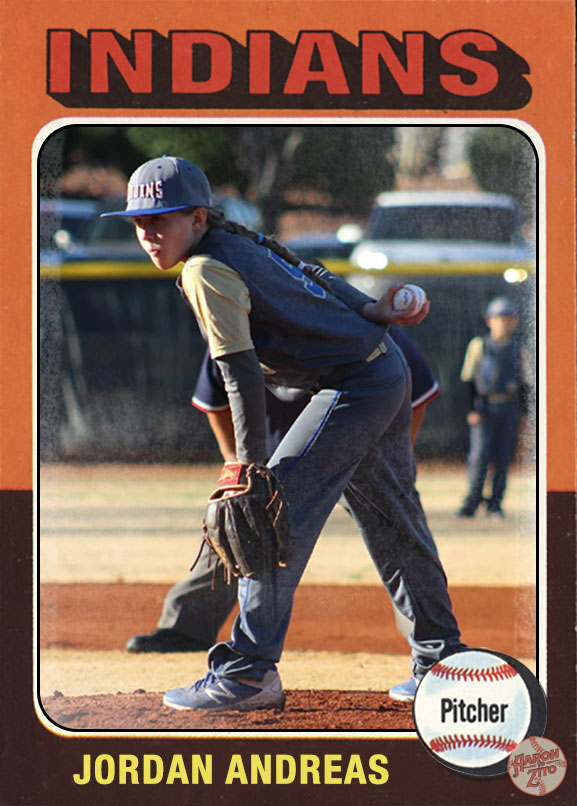 This brother-sister duo inherited a love for all things vintage from their father—especially collecting baseball cards. Aside from online collecting almost daily, both travel annually to the National Baseball Card Convention plucking gems from the countless vendors that comprise this amazing showcase of collectibles. They work daily on e-bay, with Professional Sports Authenticator (PSA), and through other various vendors and dealers purchasing, selling, and trading with just about any free time they have. Their love for baseball and collecting baseball cards is now showcased through the creation of their own business, Aaron to Zito – where you'll find all things baseball from A to Z! Please enjoy this child-driven and child-run business that offers something for everyone! All proceeds collected are aimed toward a college education and tuitions to come, assisting with fees associated with playing club baseball, and giving something back to the community through various donations and/or sponsorships. Get ready to clear the bases! Welcome to Aaron to Zito!